Sin City Deck Builders

Vegas' #1 Deck Building Contractors
Deck Builders Las Vegas
Your backyard should be stunning. If you have the space, construction of a deck is one of the best ways to get the most out of your outdoor living area.
With both wood and composite options, we're able to offer the absolute best in decking design, build, and installation.
Put in an outdoor kitchen, or a screened-in porch… the options are endless when you build a deck that suits your family's desires.
We are Sin City Deck Builders – a locally owned decking company that has been enhancing homes and businesses in Las Vegas, NV, for many years — with the addition of beautiful, sturdy, and stylish decks.
Much more than just a place to sit, chill with family, and entertain friends, a deck area increases your living space and adds function and form to your property. When you are considering building one, there are a variety of styles on the market. From traditional backyard designs like a high-rise, rectangular platform with angled corners and low square style; to distinctive and eye-catching structures like the multi-tier decks, L-shaped wraparound style, and curved designs – your options are unlimited!
Typically, your choice will be informed by several factors, sometimes beyond your aesthetic preferences. The space you've got to play around with outdoors, the architecture of your home/office, and the deck's function are the primary factors to consider. Of course, material selection is essential too! As the best deck builder in the area, we use only the highest quality materials and products, so you can rest assured that your new platform will be built to last. We'll also consider how much sun and wind exposure it will receive to ensure we're picking the suitable materials for your preferred style.
You want an installation that seamlessly blends with the landscape, existing theme, and color scheme of your property – we know, and we'll help you make it a reality.
If you can dream it up, chances are we can build it for you!
We're a Wood and Composite Deck Construction Company.
Redwood, Cedar, Trex… we do it all.

If you're in the market for new construction, you might wonder what the best material is. The answer is simple: it depends on what you want from your setup. Your choices can affect how your deck ages, so it's important to know what each material offers.
If it's going to be used by kids who love their bikes and skateboards, then you'll want something that's both strong and flexible enough to withstand their antics. If it's going to be used by adults who like to sit out on summer evenings in rocking chairs or hammocks, then you might want something lighter and more weather-resistant like cedar or redwood lumber instead of pressure-treated wood (which is heavy).
Redwood is the most common choice when it comes to decking material. It is strong and durable, with a soft surface that makes it easy to walk on. Redwood platforms also require little maintenance since they do not need to be stained or sealed.
Cedar is a popular alternative to redwood for its natural beauty. Cedar boards have a straight grain that makes them easy to cut into desired sizes. This means you can use cedar for any type of project, from a small platform at the edge of your property to an expansive recreational space.
Another option is composite wood for decks, made from recycled plastic bottles and other materials like bamboo fibers or recycled paper pulp. This material is environmentally friendly, requires less maintenance, and won't warp or rot as wood does over time; instead, it will last longer than any other material available today! Composite decking doesn't need staining or sealing like other types; clean it with soap and water every few weeks, and voila! Your space looks great again!
Do you want to take your poolside experience to the next level? We've got just the perfect solution for you. The deck construction around the pool area creates a beautiful view and provides you with a place to sit, relax and read a book while soaking up the sun. It will also give you a place to get away from it all when you want some peace and quiet.
Got a deck you want to upgrade? Don't worry—you're in the right place.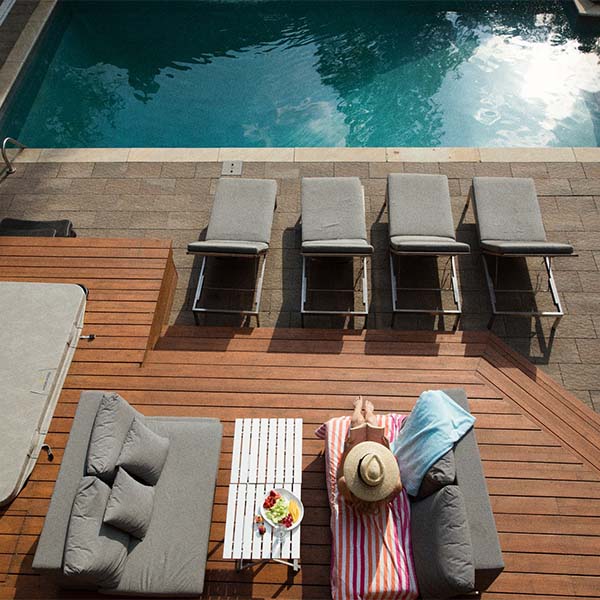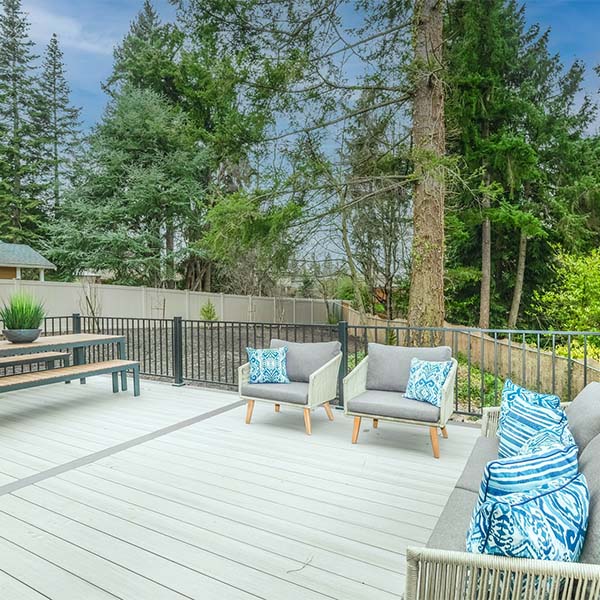 We've got everything you need to make that old platform look new again, from new railings to complete resurfacing. We've got everything from cedar to pine and even pressure-treated wood. Whatever kind of wood you like, we've got it! And don't worry about the cost—it's all affordable. In fact, it doesn't matter what kind of budget you have: we have a range of prices that will fit your needs. And if you can't find something on our website that fits your style or budget? No problem! Just call us, and we'll help you find exactly what you're looking for.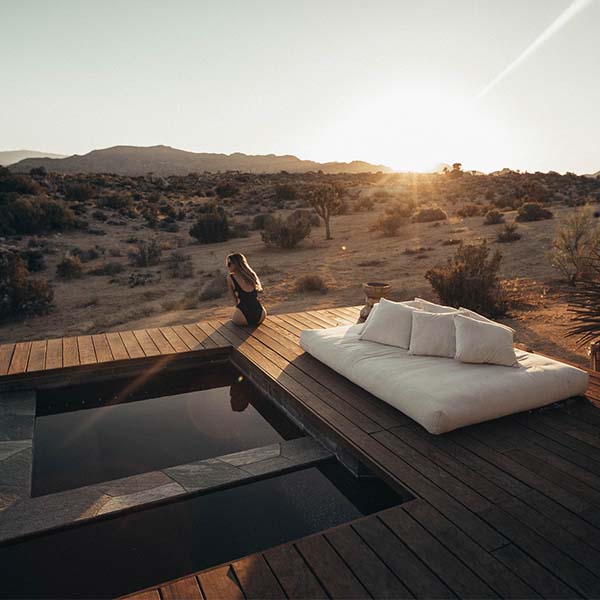 When designing your dream deck, you don't have to settle for a bland, boring design. You want to create something uniquely yours, a space where you can relax and unwind in style. At Sin City Deck Builders, we are committed to bringing your backyard ideas to life. Once we get started with design work for your new project, we'll work hard to ensure everything is perfect before moving forward with construction.
Our design options include a traditional deck, which is built on top of the ground and has no walls so that you can enjoy a great view from every spot in your yard; an elevated platform that sits above the ground and has walls around it to provide privacy and to protect you from rain or snow; a screened deck, which combines a traditional design with a screened-in porch so that you get all the benefits of both! The railing system design and pattern are not left out too. Our local deck contractors can do craftsman style, rustic style, x-shaped Chippendale, and many more designs, leaving you spoilt for choice. You can also opt for horizontal railings for deck or the vertical pattern.
Whether you want a tried-and-true option or a fully customized setup, like a deck with built in bench, we have the right colors and board grain finishes. We will also show you various flooring patterns – single width, picture frame, pinstripe, assortment, diagonal inlay, tile layout, herringbone, and many more. 
The deck of your dreams is closer than you think!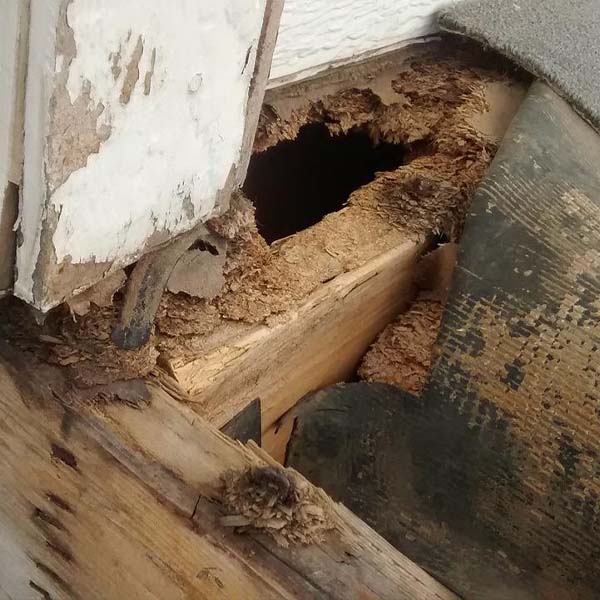 Here at Sin City Deck Builders, we like to think of ourselves as true adventurers—and our works are no exception.
When building a deck, you're making a statement about your home and lifestyle. With us, you can create something truly unique to you and your family, whether it's a simple wooden setup or an elaborate multilevel deck.
We've been designing and building platforms for several years, so we know what it takes to ensure your new backyard decking is suitable for whatever kind of adventure you have in mind. From planning and design, all the way through picking out materials – premium grade lumber, pressure-treated wood, redwood and cedar, engineered wood, composite material, PVC vinyl, Aluminum (less popular) – to completing the installation, we've got you covered!
Trust us to deliver on time and budget without compromising quality and aesthetics!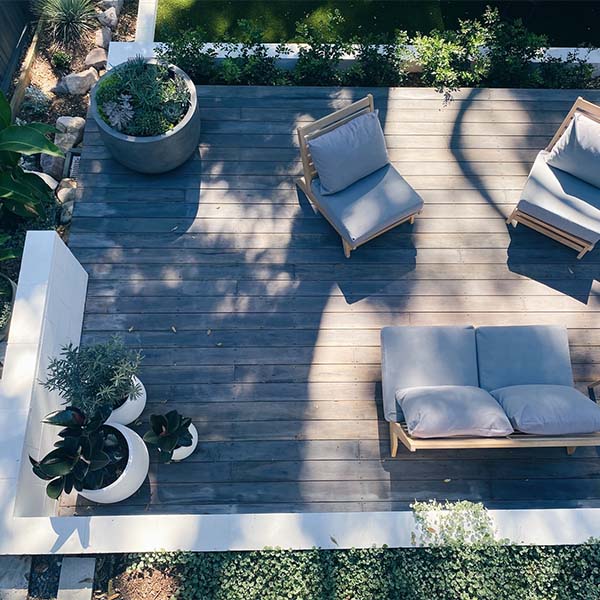 Like your mowing equipment or other appliances, your deck needs maintenance too! To keep it in tip-top shape, routine upkeep is essential and must be done by a professional deck contractor – that's why we are here for you.
For instance, wood radiates so much beauty in its first few years. But remember, it is a living thing! That means it's subject to all kinds of natural processes: It grows when exposed to sunlight and shrinks when not exposed enough; it expands during wet weather and contracts during dry weather; it may also be susceptible to pests like termites or fungi growths like mold or mildew (which could lead to rot). Similarly, pressure-treated wood and composite material are susceptible to cracks and bend over time.  
When you notice loose boards, screws, nails; fading, fungi feast, or signs of damage like splits or cracks, it's time for maintenance, mate!
Whether it's a quick spring clean, deck resurfacing, or a full-scale refurbishment, we have the tools and expertise for the job. We'll work with you to decide on the best course of action for your needs and then get to work restoring your decking! 
Ready for maintenance, we've got a free estimate for you.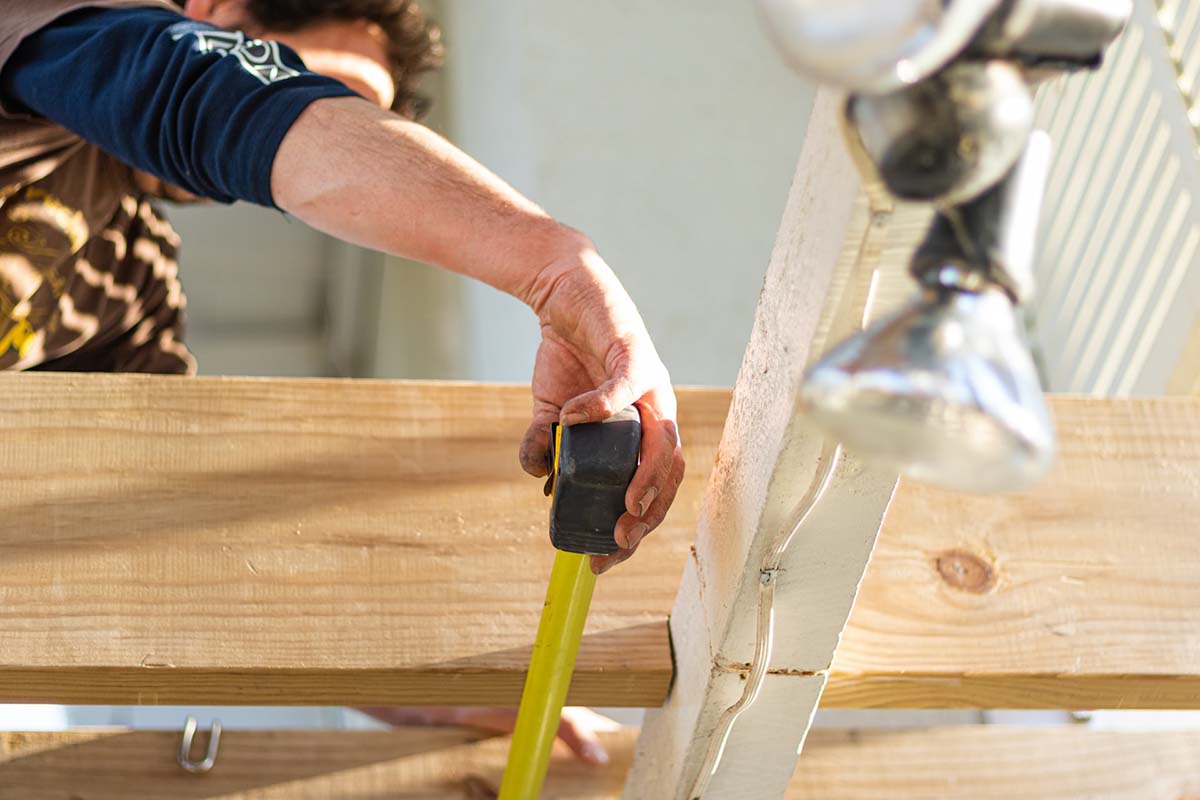 LAS VEGAS ATTACHED, DETACHED, MULTI-TIER + WRAPAROUND DECK SPECIALISTS
We've got the experience and expertise to craft the perfect outdoor living space for your home in Las Vegas, NV. Just name the design, and it's done!
What all do you do?
We specialize in deck construction and maintenance. We offer a wide variety of services, from simple decking repairs to full-blown deck remodeling.
What areas of town do you serve?
Our Las Vegas deck builders have completed hundreds of projects around the city center and nearby cities including, Paradise Nevada, Henderson, Spring Valley and can reach all of the neighborhoods, including Downtown Vegas, Queensridge, The Strip, North Las Vegas, Henderson, Mountains Edge, Summerlin South, Centennial and the University of Nevada area, to mention a few.
What materials can we choose from?
There are many considerations to make when it comes to selecting the material you want to build your deck out of. Wood has a soft, natural feel and essence to it that simply can't be duplicated by a synthetic material, such as Trex. However, newer, more modern composite materials have their own distinct advantages, like durability, longevity, and different color options.
Some natural woods, like redwood and cedar are resistant to rot, and can be great materials for decks as long as they are cared for properly over the years. Deck maintenance is another important topic dependent on the material you end up choosing.
We can discuss material options with you when we give you a quote. We try to figure out your personal needs and desires, and then offer up suggestions, accordingly.
Okay, Okay. What's this gonna cost me?
The cost depends on many factors, including the size, labor, materials, and project complexity. One thing is for sure, you will always get a fair, honest quote from us that will reflect the value of our product in the marketplace. We try our best to be affordable deck builders that you can trust to also provide you with quality craftsmanship, and a finished deck that you and your family will create lasting memories on.
Any Guarantee or Warranty?
Many factors outside of our control have the potential to contribute to problems or issues. Other structures on the property, overgrown trees and more can all pose a potential threat to your decks integrity. We stand by our work so we are always open to having a discussion with you about any complaints you may have with our work. We are betting not though – we have a pretty solid track record of well crafted projects that people have absolutely loved, and continue to love.